I really hate to be a downer, but I want to address an issue we are all dealing with in midlife and that's the reality of losing our parent's friends. It's hard to lose your own parents, and I have lost my mother, my father, my stepfather and my father-in-law. But I also think it's hard to lose their friends. Many of our parent's friends are dear to us and we miss their presence in our lives too.
Recently, two of my parent's long-time friends have passed away, reminding me that life is really short and we all must go at some time. Sometimes it seems too early; other times it's not such a big surprise. It won't be long until we are at the crossroads of heaven and my hope is that we create lasting legacies as both of my parent's friends did.
Today's article honors Tom Fitzsimmons and Joan Stanley…two people who left a trail of talent and love behind for others to enjoy.
Honoring Two Special People
Tom Fitzsimmons – A True Gentleman
In 1950, Tom Fitzsimmons was playing the trumpet for the NBC orchestra. He roomed with my father (who was concertmaster and a featured soloist with the orchestra) on a road-trip and the two became friends. They knew each other for over 60 years.
Tom played trumpet on Bozo's circus for WGN in Chicago in the 50s and 60s. He played gigs all over town. He also was an avid photographer and took professional photos for his family and friends. I still have some of the photos Tom took of us as kids.
He shared his love of photography with his kids as he would take them each into the dark room to process his film. His kids speak lovingly of their dad who they admired and enjoyed for as long as they could.
Tom played his trumpet well into his 80s when he moved to Sun City, Arizona with his wife Carole. The two got reacquainted with my mother who lived there and they socialized on many occasions. We would have Tom and Carole over for special occasions and they were like extended family to us. He slowed down considerably as he approached 90 and at 91 he passed away peacefully in Arizona – one of his favorite places. I had the privilege of seeing Tom just a few days before he died. He would have loved the memorial luncheon his family gave him. The band he performed with played at the luncheon and all his Sun City friends came to remember him and to say goodbye.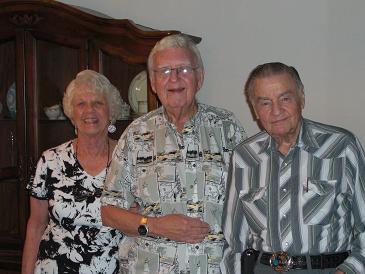 This is a picture of Tom, his wife Carole and my father, Albert Muenzer.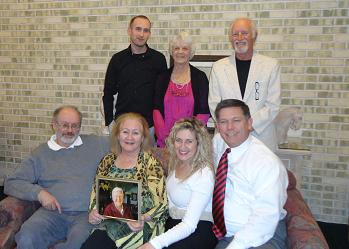 This is Tom's family at the memorial luncheon. His daughter holds a picture of her dad.
Joan Stanley – An Extraordinary Woman
Joan Stanley played violin for the Houston Symphony back in the 60s and 70s. This is where she met my father and step-mother. I met Joan when I was 9 during a visit to Houston. She has been a dear family friend ever since.
I didn't really get to know Joan well until my husband and I started vacationing with my parents along with Joan and her husband John. We got along famously. Joan was an amazing cook and was usually in charge of the meals. John is a man with a seriously funny sense of humor and he would keep us in stitches all week long.
What I love about Joan is that she was a divinely sweet person. She had a love for God, a love for country and a love for her family and friends. She was the consummate hostess and loved to dote on her guests.
Joan was an amazing violinist and at the time of her death, she still had 10 students coming weekly for lessons. Unfortunately, Joan was diagnosed with ovarian cancer at age 72 and after a very brief time, she succumbed to the complications of the disease.
Joan had two children, Mary and Dana and she was very close to them. She and John were often with Dana at the campground they co-own. She adored Mary and her children and was always sharing pictures of their beautiful family. Joan and John loved to travel and visited their children as often as they could. They have been extremely devoted friends to my parents over the years and Joan will really be missed by all of us.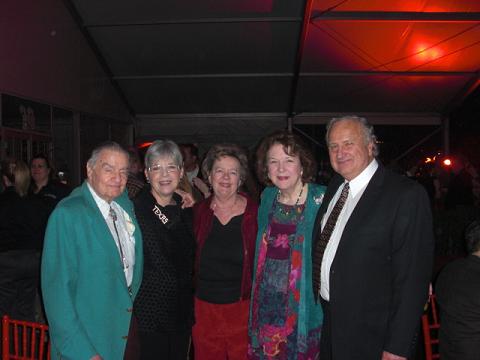 Here is a picture of Joan with my stepmom Kappy on Joan's left and Joan's husband John, far right. That's my dad on the left next to another precious family friend, Nancy Hoffman.